Travel with Luciano
We are now taking reservations for 2024. Trips will feature Tuscany, Northern Italy, or Amalfi Coast and are presented in a 6 day, 5 night format with 4-8 guests per trip.
Prices vary depending on number of people & days, level of lodging, and requested activities. We have weeks available in March, May, and October. Here is an example of a Tuscan Itenerary (for May 2024).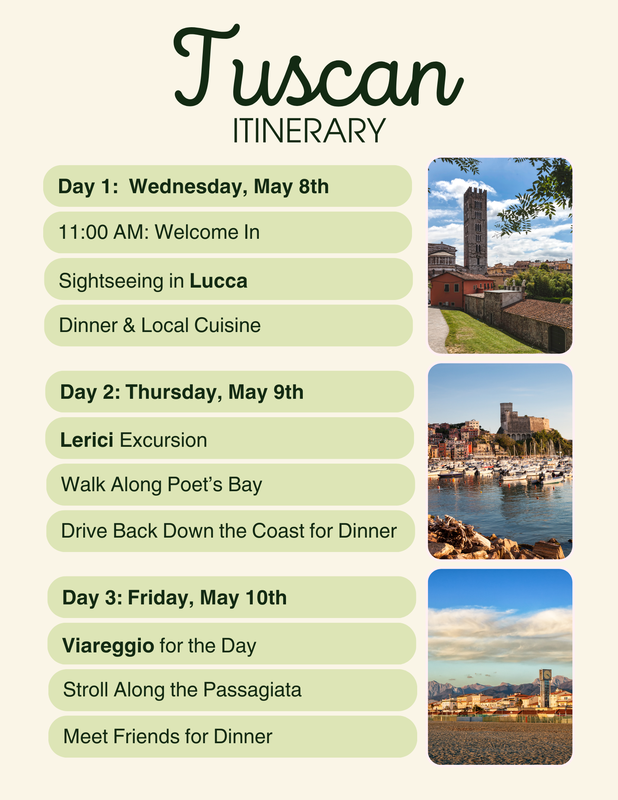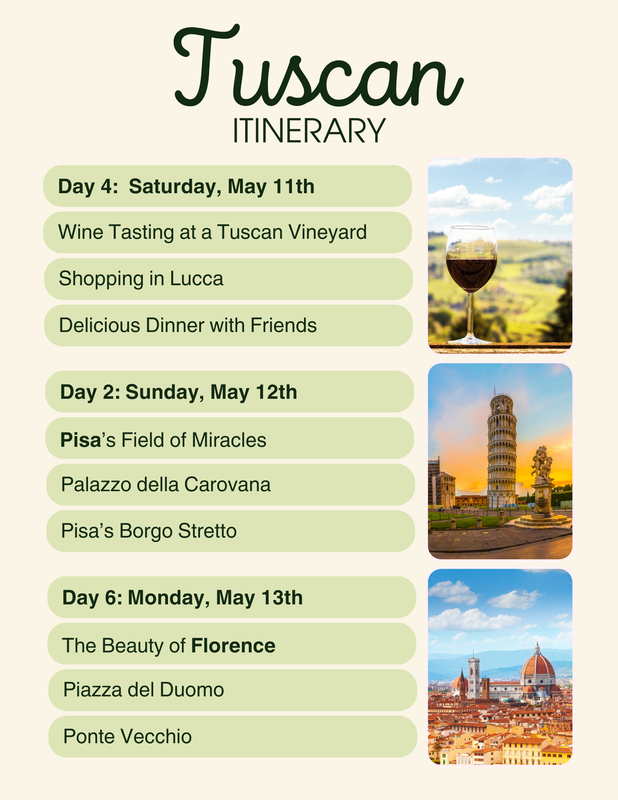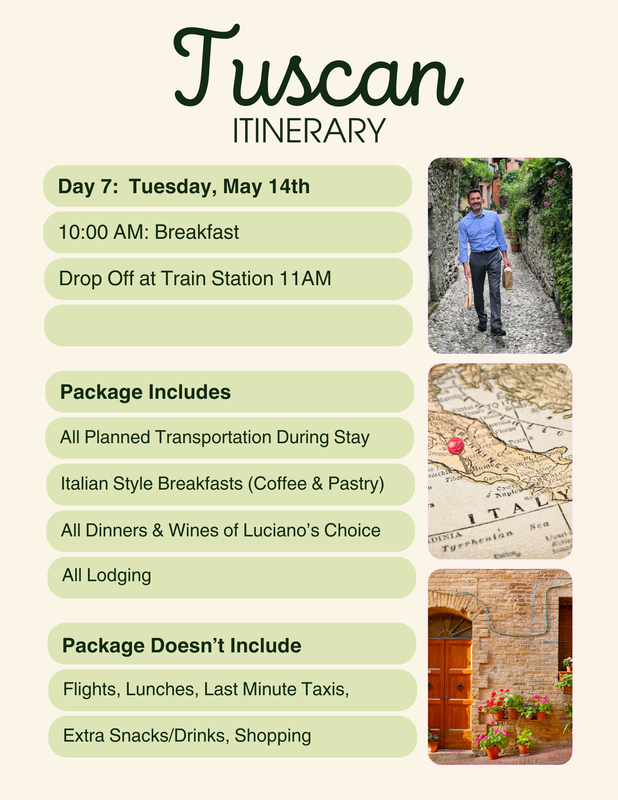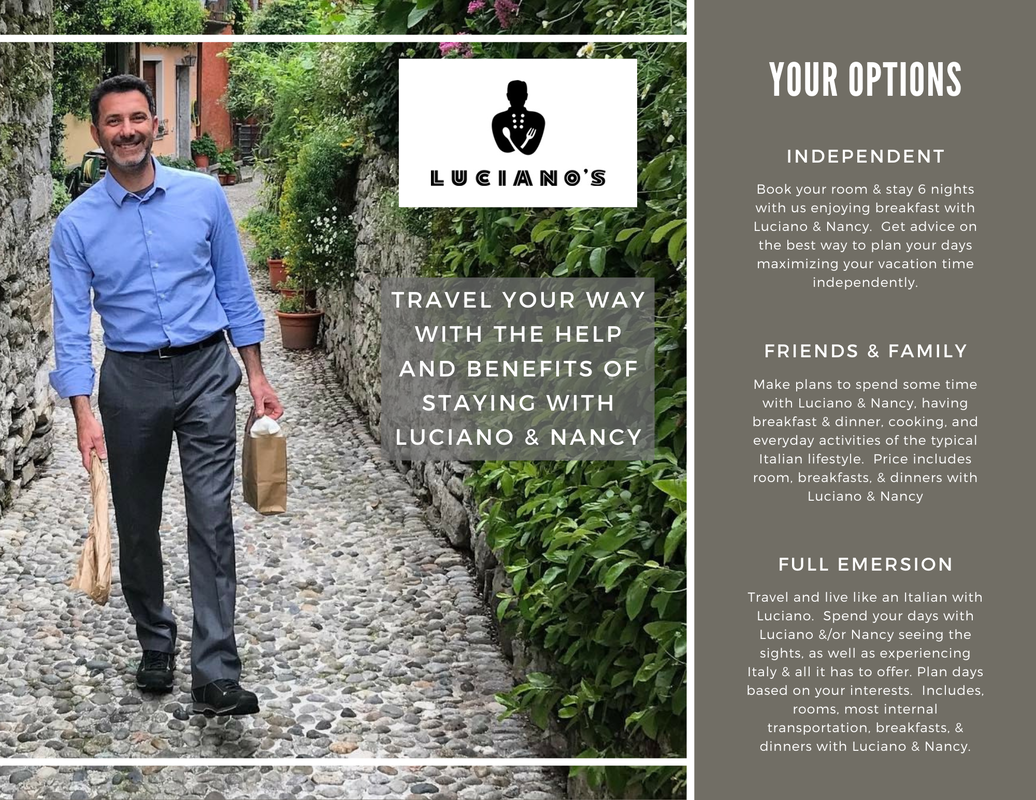 OUR BACKGROUND
Luciano & Nancy lived in Europe for many years and have been taking small groups to tour Europe since 2007.
OUR SERVICES
Whether you're looking for simple advice on where to stay & what to plan, or the whole package of traveling with us on a tour, we have you covered. Simply look over our upcoming available scheduled packages or just tell us where you want to go, and we'll help you figure out the rest. We work to help you benefit from our experience.
WHAT'S INCLUDED WITH SCHEDULED TOURS
ALL SCHEDULED INTERNAL TRAVEL
Train tickets, car rental fees, boat rides, parking, tolls, and all other internal prearranged travel that gets us to our planned destinations together.
ALL LODGING
Hotels, apartments, villas, and all other places we will rest our heads.
ALL DRIVING, FUEL, PARKING, & TOLLS
Luciano has lots of experience behind the wheel here, so sit back, relax, and let him do the work to drive us safely to our destination.
MOST OF YOUR MEALS
Enjoy your breakfasts with us every morning. We'll also be cooking up or heading out for some great dinners. Lunch is typically not included. And if you really need that special bottle or menu item, we can arrange for you to buy a few dinners on your own or price the trip without meals included.
PACKING & TRAVELING ADVICE
If you're excited about the details, we'll give you specifics about what to bring, what to plan to wear, what to expect each day, what will be available in the cities, when we'll have access to amenities, as well as when we anticipate you having that important down time to branch out on your own.
WHAT IS NOT INCLUDED
AIRFARE, TRANSPORTATION TO OUR MEETING SPOT, TRANSPORTATION AFTER OUR DAYS TOGETHER
Prices don't include your airfare, but we can help you arrange it. We'll arrange ahead of time where and when we'll meet & advise you how to get there. We can meet you at your desired location &/or drop you at a specific destination at the end of our time together, but that may increase your costs.
UNEXPECTED TAXIS AND UNPLANNED TRAVEL
If your feet are hurting or you want to head to that special shop on your own, we'll help you flag down that taxi or get that bus ticket but you'll need to pay for the unexpected ride.
BAGGAGE HANDLING
These trips can involve carrying your bags up flights of stairs & long walks in pedestrian zones & you'll be responsible for carrying whatever you bring or buy (or paying someone to do it for you if you can find the help). Pack light!
SOME MEALS & SNACKS
Although most meals are covered, you'll need to be ready to provide a few meals for yourselves, but we are always happy to make recommendations and help you make your plans.
TRIP INSURANCE
​
If you can't travel, or are unable to complete the scheduled trip, we will not be able to provide you with any refund for the purchase, but you can get your own travel insurance if you prefer.
OTHER NOTES OF INTEREST
COST
Costs will vary, but typically the 5 night, 6 day scheduled trips are $4,000 per person if you travel in a group of 4 people.
It is possible to arrange a trip for yourselves with all of the same lodging, transportation, restaurant ideas, etc which will cost you less if Luciano doesn't travel with you. It is also possible to travel on a very small budget & we are happy to talk to you about planning this sort of trip. Even if you can't go with Luciano, we encourage you to have these experiences for yourselves! Of course you'll be doing all the navigating, communicating, and managing on your own once you're there. It is a completely different experience, but if it is what you prefer we are happy to make recomendations.
RESERVING YOUR SPOT
Deposits in cash or check for half of the cost of the scheduled trip will secure your spot. Some items can be refunded up to 90 days before departure, but other items are nonrefundable. And no refunds are possible 90 days or fewer before departure. We'll provide an itemized list if requested.
GROUP SIZE
We typically encourage groups of 4, with 2 people per room. We have gone with 6 people but the cost for vehicles for 8ppl (6 guests plus Luciano & Nancy) can be quite high. Groups of 8+ guests are limited to 1 lodging location with day trips via train travel. We like a smaller group so the experience feels more authentic & sustainable but we'll take as many as 8 if you prefer.
MORE INFORMATION
​
For more information and other possible destinations, call 316-777-0045.